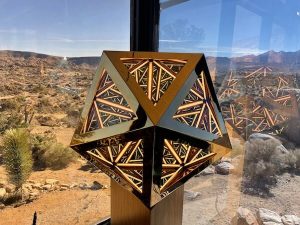 Winn Wittman found a kindred spirit in Los Angeles-based artist Anthony James. His sculptures straddle the line between iconic and arbitrary, tangible and alchemical, architectural and experiential. "Evoking graphic portrayals of the universe, alluding to notions of mysticism, ethereality, spirituality, and science, all while anchored through the use of hefty, industrial materials," James says o his work.
When Winn first stayed at the Pendry West Hollywood shortly after it opened in the spring of 2021, he first noticed Anthony's dazzling sculpture which dominates the lobby. Instantly enthralled, he sought out longstanding acquaintance Veronica Fernandez of Fine Art Services, a Palm Springs-based art-acquisition agency, for an introduction to the artist.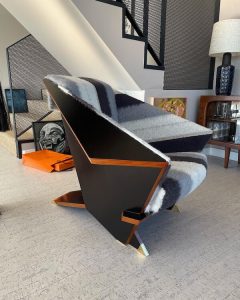 It was December of 2021 when Winn Wittman visited Anthony's Studio. This was followed by a remarkable meal of chicken Parmesan at one of Winn's favorite West Hollywood restaurants, Dan Tana's. Over plates of chicken Parmesan, Anthony told the story of how, in the 1990s, he burned his Ferrari, put the contents in a glass vitrine, and then sold it as art. This launched a lucrative career has placed his works in private and public collections from New York to Dubai.
Winn was in Palm Springs this past February for the Indian Wells Tennis Tournament when Anthony invited him to visit him at his Joshua Tree home. A small gold-plated version of the sculptor's now-famous dodecahedron, as well as a slew of unique mid-century furniture pieces by such design masters as Sam Maloof, Paul Kjaerholm, and the piece-de-resistance, a chair by architect Frank Lloyd Wright, are featured in the sculptor's digs, which are perched in an otherworldly desert landscape. After that, the two traveled to Beverly Hills to tour several homes by mid-century architect John Lautner.
The Austin Architect and the Artist are becoming fast friends.