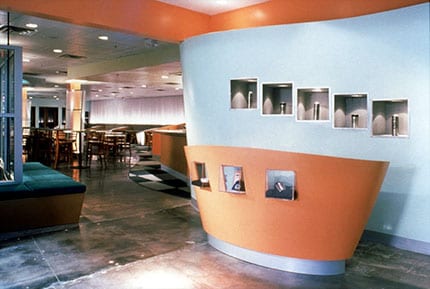 Commercial Architecture
At Winn Wittman Architecture, we work with clients in Texas and around the country to create bold, unique commercial spaces that set your brand apart and help your business reach its full potential.
Each design is a work of functional art, co-created with you, rather than designed for you. Because we're not limited to any architectural style, your aesthetic taste, site considerations, business needs, and budget determine the style and structure. We specialize in residential architecture, as well as all kinds of commercial projects, including restaurants, high-rises, and multi-family units. We also offer remodeling and interior design consulting.
The Wittman Process ™: Saving You Time, Reducing Frustration
In over 15 years in commercial architecture, we've learned that good communication and transparency are crucial to successful outcomes. Our proprietary Wittman Process ™ makes communication with us more efficient, so your project rolls along smoothly and you always know what to expect.
First, we find out what communication style and method will work best for you. Rather than asking you to adapt to us, we adapt to the way you like to exchange information and updates. This cuts down on inefficiency, wasted time, and, of course, frustration.
Next, we visit the site, meet with you and prepare a complimentary Roadmap that outlines and explains all phases of the project and what to expect at each. The Roadmap also discusses permitting, sustainability options, and any other relevant questions about your project.
Our clients always appreciate the Roadmap. Even if you decide not to hire us, keep it! It will be a useful tool for you, no matter who you choose to work with.
Transparency
Transparency benefits everyone, and it's critical to the Wittman Process™. You can access project bank accounts and budgets in real time, and view scans and uploads of all invoices in shared file folders.
Other tools we use include online meetings, iPhone photos, and screen-sharing applications.
Working with Out-of-State Clients
When we're working out of state, we often partner with a trusted local architect to supervise your site. Winn Wittman personally visits the site to verify that the project stays on track.
Our Recognition and Awards
We're proud members of the American Institute of Architects (AIA), the Texas Society of Architects, and AIA Austin, and we've received many awards over the years, from the AIA, the Industrial Designers Society of America, Architectural Record, Dream Home Awards, World Architecture News, and others.
Some of our high-profile commercial clients include Ferrari of Austin, Roger Beasley Porsche, and the Metropolitan Club of Austin.